The State Of Remote Online Notarization
By David Thun on November 19, 2019 in Laws & Regulations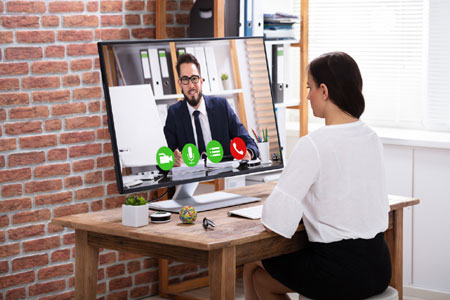 (Originally published in the November 2019 issue of The National Notarymagazine.)
A few years ago, if you had asked if it were possible to notarize for a signer who was hundreds or thousands of miles away from you, you'd have been told you were crazy. But today, nearly two dozen states across the nation have authorized Notaries to perform notarizations remotely using audiovisual technology via the internet. This is called remote online notarization, also known as RON.
RON makes substantive changes to the way notarizations are performed. Some Notaries worry that RON deviates too far from traditional safeguards. Others are excited about the prospect of notarizing for customers hundreds or even thousands of miles away without needing to leave home and counter that RON is actually more secure than paper notarizations.
One of the challenges faced by Notaries and others in embracing remote online notarization is the fact that the laws authorizing it redefine many of the elements of traditional notarization, including what it means for a signer to personally appear before the Notary, how the signer is identified and how records of notarizations are made and kept.
In this article, we'll compare how remote notarization differs from traditional pen-and-paper notarization, discuss the most urgent concerns Notaries have raised about RON, and look at new remote online notarization business models emerging for Notaries and Signing Agents.
The Most Radical Change
The most radical change is the requirement for the signer to personally appear before the Notary at the time of the notarization. Until recently that requirement meant that the signer had to be in the physical presence of the Notary so they could communicate directly, face to face with each other.
With remote online notarization, states have broadened that definition. Now, that face-to-face contact can be satisfied online using audiovisual technology such as a webcam. The signer can be in another town, another state or even another country.
Naturally, many questions have been raised about this change. If you aren't face-to-face with a signer, how can you verify their identity? What if there is a person holding a gun off-camera? How do you meet your journal-keeping requirements?
"I really want to learn more about remote notarization, but I have concerns," said Donna Laird, a Notary in San Bernardino County, California, a state that has not authorized remote online notarizations but is considering it. Living in a mountain community, Laird says the idea of reaching customers without needing to drive long distances is very appealing. At the same time, she worries whether RON remote notarization has enough safeguards against fraud.
Proponents assert that the means for identifying signers of RONs produces greater confidence of a person's identity than the means of identifying signers for a paper notarization and that with today's communication technologies, a Notary can make determinations of a signer's willingness and mental competence just as well as a Notary who is physically present with the signer.
Identifying Signers
So how does a remote Notary confirm a signer's identity without being able to hold and examine an ID? State RON laws have crafted rules for the identity-vetting task that are tailored for the online environment in which a RON takes place. The main ways a Notary verifies an identity online include:
• Knowledge-based authentication, known as KBA
• Credential Analysis
• Remote Presentation (Viewing IDs via webcam)
With knowledge-based authentication, the signer must correctly answer a set of computer-generated questions related to their life, credit and financial history. State rules and industry standards allow for the signer to take a second KBA with a subset of different questions if they fail the first one. If the signer cannot successfully pass the KBA, the Notary will not perform the notarization. One drawback to KBA is that it often cannot be used to verify the identities of minors and young adults because they lack sufficient credit histories to generate the KBA questions. KBA also cannot be used to identify foreign citizens who lack a Social Security number.
With credential analysis, the RON technology solution is used to scan the signer's ID credential for the presence of identifiers and security elements to confirm that the ID is valid.
KBA and credential analysis are typically incorporated into the technology used by the Notary.
With remote presentation, the signer holds their ID to the camera and the Notary can check that the signer's appearance and other details match the information on the ID.
Credential analysis and remote presentation compare and correspond to the Notary's handling the physical ID during a paper notarization today.
Many existing RON laws require Notaries to use at least two of the methods mentioned above, but most require all three. These states typically also allow a Notary to identify a signer based on the Notary's personal knowledge or through the oath or affirmation of credible witness, just like for a paper notarization. As more states enact remote online notarization laws, they may have different requirements for identifying signers. South Dakota, for example, only permits its Notaries to use personal knowledge to verify a remote signer's identity.
How A Remote Online Notarization Is Performed
To start a remote notarization, both the signer and Notary must access a RON platform. In most cases, the document for a remote online notarization must be in an electronic format such as a PDF. The document is uploaded to the RON platform. The platform provides the audiovisual technology allowing the Notary and signer to see, hear and communicate with each other. Once the Notary verifies the signer's identity and the Notary is confident the signer is willing and mentally competent, the signer and Notary both sign the document electronically, and the Notary affixes an electronic seal. When finished, the notarized electronic document can be retrieved by the signer at any time.
Remote Notarization Journal Entries
In addition to keeping a journal of the remote online notarization, Notaries are also required to create an audiovisual recording of each remote notarization. Most RON platforms create both the electronic journal entry and the recording of the RON event. If a remote notarization is ever challenged in court, the electronic journal entry and recording provide evidence that the notarization took place as claimed. Depending on state law and the Notary's business model, Notaries may be permitted to store their audiovisual records through a RON service provider they choose to work with.
Where Remote Online Notarizations Can Be Performed
Remote online notarization is not permitted in all U.S. jurisdictions. As of November 2019, Virginia, Texas, Nevada, Minnesota, Montana, Ohio and Tennessee permit qualifying Notaries to perform RONs. North Dakota also permits remote online notarizations, but the Secretary of State has not published rules for the process. South Dakota limits remote online notarizations to paper documents only. Utah's remote online notarization law took effect November 1 and, according to the Utah Lieutenant Governor's website, Notaries there may apply for certification to perform remote notarizations. Most of the remaining RON laws will take effect in 2020.
For signers, there are no restrictions on where they can be. A signer literally can be anywhere in the world and still get their document notarized remotely. A Notary, however, must be physically located in the state where they are commissioned.
RON Providers Vs. Independent Services
If you are in a state that permits remote online notarization and want to offer these services as part of your business, there are two main business models available.
The first is signing on with a platform provider — such as NotaryCam or Notarize — that offers remote online notarization services to customers. The RON provider sets up the Notary with access to the company's platform, trains them how to use the platform and directs customers to the Notary. The second is building your own system.
"The biggest advantages working for a provider is that they take care of all your technology, data privacy and customer service needs for remote online notarizations," said Dushunna Scott, a Notary from North Chesterfield, Virginia, who has performed remote online notarizations since 2016. In addition, the service provider also stores her audiovisual recordings. Typically, she is on-call for remote notarizations on Wednesday nights and weekends and works as a mobile Notary and Signing Agent during the rest of the week. Scott receives part of the fee for each remote notarization she performs with Notarize, who also pay her for her time spent on-call.
Scott likes utilizing a RON provider because it's convenient having customers directed to her, and she gets to work from home. "But even though I work with Notarize, I still market myself as an individual Notary," she said. Remote online notarizations are just one component of her business.
Melissa Johnson Eldridge of Mansfield, Texas, also started out doing remote notarizations through a company, but eventually wanted to strike out on her own. She purchased a web-based, remote online notarization platform from technology provider DocVerify and started her own company, Certified Texas Electronic Notary.
Going independent was very different than using a RON provider that handles customer contact, initial identity screenings and sending the signer's documents to the Notary. Eldridge had to learn how to do all these things on her own. "I had to simulate a mock remote online notarization by sending a document to myself so I could figure out how to use it," she said.
"While I had to learn and be responsible for more aspects of the process," she said. "I work when I choose to and have more flexibility. And I don't have to share the fee with anyone."
Concerns About Remote Online Notarizations
Notaries and others — especially those in states that have not adopted remote online notarizations — have raised many questions and concerns about the process.
In a letter to a California State Assembly member opposing a remote online notarization bill, the ACLU cautioned that remote online notarization "… creates significantly greater data privacy issues than traditional notarization."
Notary Matt Miller of San Francisco, California, who organized opposition to the same RON legislation in California, says his biggest concern is possible electronic privacy breaches of sensitive signer and Notary information.
"How can a Notary be held to account for the exclusive control of their journal data if you have an online platform involved that then sends this data on to yet another third party? Also, what happens when one of these companies goes out of business?" Miller said.
Rick Triola, founder and CEO of NotaryCam, said that his company takes numerous steps to ensure signer and Notary privacy. For example, NotaryCam and other RON platform providers do not retain any KBA answers provided by signers. NotaryCam also follows SOC 2 compliance standards for emergency backups, redundant systems and other protections for remote online notarization journal data, Triola said.
DocVerify's platform uses encryption to protect stored data from RON recordings as well as other data associated with the notarization, and in most cases the platform exceeds the requirements of state RON laws, said Chief Technology Officer Darcy Mayer.
Remote Online Notarization And Loan Document Signings
Can remote online notarizations be used for loan document signings? Absolutely, said Triola. His company has completed many successful remote loan closings during the past 6 years.
Initially, only Virginia Notaries could only perform remote notarizations. Many experts believed that Virginia Notaries would be able to handle the majority of remote notarizations throughout the country. It turned out, however, that consumers wanted to use remote Notaries from their own states.
Major title underwriters also were reluctant to use out-of-state RON Notaries in those early days, Triola said. As more states start commissioning RON Notaries, that reluctance is dwindling.
Today many lenders are adopting the process because of the convenience to their customers. NotaryCam requires Signing Agents they work with to be NNA certified and background screened, and Triola estimates that approximately 87 percent of U.S. recording offices can accept remotely notarized documents for recording.
Looking To The Future
RON is continuing to gain momentum. Nine new states have passed remote notarization laws that take effect in 2020. That has some Notaries worrying that remote notarization will replace traditional notarizations.
Triola doesn't see that happening any time soon. "Remote online notarization is not trying to take traditional Notaries out of the equation. It simply gives Notaries a new market for their services where there wasn't one before," he said.
Eldridge believes that as more Notaries learn about remote online notarization and understand it better, they will be more confident about using it.
"Lack of knowledge puts fear in us," she said. "I think when other Notaries truly use it, they will see that it's even more secure than a traditional notarization."
David Thun is an Associate Editor at the National Notary Association.